›
Tensile architecture by Shenzhen Xinwangjiao Space Film Technical Development Limited.
Shenzhen Xinwangjiao Space Film Technical Development Limited
Shenzhen Xinwangjiao Space Film Technical Development Limited (hereinafter referred to as "Shenzhen Xinwangjiao Ltd."), as the member unit of China Steelwork Association and China Space Structure Association as well as the deputy director-general member unit of Guangdong Space Structure Association, is an enterprise set up at the end of 1999, who was engaged in film structure industry. With the rapid development of domestic film-work building trades, Shenzhen Xinwangjiao Ltd. has developed into a special manufacturer with achievements spreading over 20 provinces, cities and regions.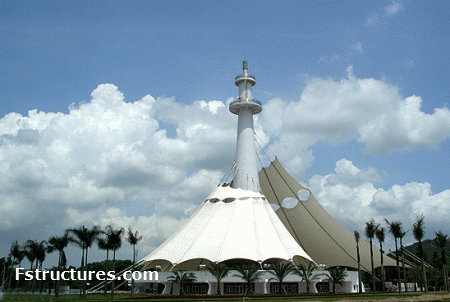 In addition to such nine departments as Market Dept., Technology Dept., Overall Planning Dept., Quality Control Dept., Material Supply Dept., Financial Dept., Chief Engineer Office, Sports Project Development Dept., Administrative Office, it has set up its film producing bases, industrial parks and tensile test laboratory in Zhangzhou Fujian, Shenzhen Yuebao Industrial Zone and Longgang Shenzhen. With over 1000 technicians including 13 with senior titles, 21 with middle titles and 26 with junior titles, it is capable of processing 0.20 square meters of film annually by use of 6 film welding equipment of 100KW, and 30 buffing machines. Its completed projects refer to stadium, gymnasium, commercial public facilities, cultural and recreational facilities, symbolic buildings, traffic facilities, sea projects, water projects and performance center.
Shenzhen Xinwangjiao Ltd. has under control a lot of high-quality engineering technicians. To improve technical capability, it invited some film-work designers from Australia to work together, so as to form its own construction processes and management methods. Detected by China Quality Inspection Association, it was appraised as the Trustworthy Enterprise of Quality, and Enterprise "Strictly Abiding by Contracts and Keeping Credits".



Of years it has undertaken a number of construction projects, including the showground of Panyu Xiangjiang Safari Park (22580m2) -- the largest span (114m) film-work building, Longgang Int'l Cycling Stadium of the 9th National Games (10418m2), the stands of Yiyang Stadium (12363m2), the stands of Chengdu Special Court (16850m2), Nanjing Cycling Stadium (8600 m2), Huizhou Gymnasium (8362m2), the tennis Court of Maocao Xinhua Building (1000 m2), the playground of Hainan Medical College (1602m2), Zengcheng Biguiyuan Kangti Recreational Center (7954m2), Guangzhou Biguiyuan Music Plaza (2250 m2), Zhongshan Sightseeing Spiral Tower (4300 m2), Guangzhou Zhujiang Film-work Project (2300 m2), Guangzhou Lingnan New World Club (1020 m2), and the stand of Tangshan Ground Track Field (1293m2).



And it also undertook some works such as The film-work of toll station under Henan Jiaojin Expressway (3566 m2), Children Amusement Park (2315 m2) and Dolphin Hall (2100) of Haikou Tropical Sea World, the stretch film (1500 m2) of Nanning Yongjiang Yiqiao Riverbank Park, the film-work (1600 m2) of Kunming Yangguang Garden, the film-work project of Dalian Boshiwan Seaside Resort, the stadium stand of Wenzhou Medical College, Shandong Longkou Foreign Languages Institute, the stadium stand of Jiangning School Zone under Nanjing Hehai University and Xiamen-Taiwan Ancient City Sea-seeing Platform.



Construction of these projects advances the film-work technology of our country as well as helps us accumulate rich experience and establish good credit and brand-name image. Shenzhen Xinwangjiao Ltd. has improved its strength through constant absorption of advanced technology in film-work industry and reference to construction experience of film-work projects. In 2001 it became the member of IFAI and passed ISO9001-2000 certification. This year we will cooperate with German B&O Company and others in PTFE permanent film-making technology in order to improve our strength.



Meanwhile, it will complete the construction of its permanent film producing base at Zhangzhou Fujian this year.
Aiming at future development, Shenzhen Xinwangjiao Ltd. will as before by persisting in its management policy and its quality policy make new contributions to development of film-work industry and our national economy. It is what Xinwangjiao employees wish!





For more details visit www.kingwolf.com.cn
Viewed: 15344 Comments (3) Share this article »
Forgot password?
JOIN US
or login with your existing account