›
Tension fabric structure - California tensile structure
Progress Report: $18.3 million Rosa Parks Transit Center rises on schedule
Despite early setbacks, construction of the Rosa Parks Transit Center is proceeding according to schedule, with completion anticipated for the end of 2008.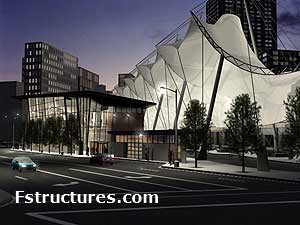 The 24-hour multi-modal center will consist of a 25,7000-square-foot building that houses a cashier, retail, DDOT police and passenger seating as well as a central island with 12 bus bays covered by a tensile structure.

The building foundation work has been completed and 80% of utility work is done. The concrete structure that has risen along Cass is a security tower. "It is a major element," says project architect Tushar Advani of Parsons Brinkerhoff. "It marks the entrance to the facility." There will also be an 8-foot wall that surrounds the entire 2.4-acre site.

DeMaria Building Company is the general contractor. Early site work led them to discover an undocumented underground duct system, which will take up to two years to relocate. "We're maintaining our schedule even though we had to slow up in the beginning to accommodate the duct bank," says Advani. "We've had cooperation from the contractor, from AT&T, from Parsons and DDOT."

A $5.5 million contract has been signed with USA Shade & Fabric Structures, Inc. of Costa Mesa, California for the installation of the tensile canopy. A local fabrication plant will assemble the structure off-site.

The $18.3 million transit center is being funded through federal and state grants.

Sources: Tushar Advani and Joseph Koram, Parsons Brinckerhoff and Ruby Dixon, DDOT
Writer: Kelli B. Kavanaugh
Viewed: 21045 Comments (11) Share this article »
Forgot password?
JOIN US
or login with your existing account