›
inflatable office in a bag
This modern, versatile space can seat up to 10 people with a table, or offers standing room for as many as 20 visitors. OIAB is made of durable rip stop nylon, polyester and reinforced PVC, and features fluorescent tube lighting available in a spectrum of color gels that sets the whole modern space aglow.  For more details, please contact Yally.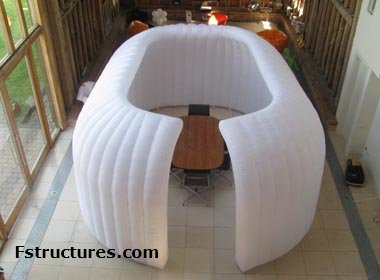 The size of this inflatable office in a bag have many sizes, here are the details:
3x3m, 4.2m2 usable floor area

4x3m, 6.4m2 usable floor area

5x4m, 12.8m2 usable floor area

6x5m, 20m2 usable floor area 
Yally is a professional supplier of inflatable tent, inflatable building, inflatable structure, inflatable enclosure, inflatable sport hall, inflatable office, inflatable room, inflatable exhibition stand, inflatable bouncer, inflatable slide and so on.
Yally serve customers with heart and soul and
insist the rule of supplying customers good products with reasonable price in all the business, the
customers' satisfaction is the goal of Yally. For more information, please link www.yolloy.com.
Viewed: 2961 Comments (6) Share this article »
Forgot password?
JOIN US
or login with your existing account