›
Tensioned fabric structures from Span Systems, Inc.
Over 30 years of broad international experience in the design, fabrication and installation of tensioned fabric structures!
Architectural tensioned fabric structures are today's preferred choice whenever a dramatic, unique architectural statement is called for. We at Span Systems fluently speak the language of curvilinear, anti-clastic surface geometries. Whether the initial concept is developed in-house or provided by the architect or owner, our expertise can turn any concept into a structurally sound, economic reality. Our complete in-house responsibility from start to finish results in a finished product that is outstanding in every sense of the word. Span Systems provides complete design-build expertise for unique tensioned fabric structure projects worldwide!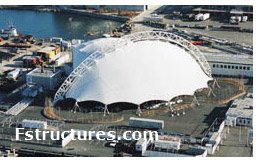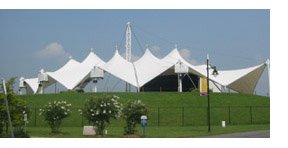 Our certified Structural Designs meet building code requirements for snow, wind and seismic loads as well as fire safety, energy conservation, etc. The wind behavior of large, unique roof shapes and configurations is typically confirmed by advanced wind tunnel analysis. Such analysis provides the greatest design accuracy and efficiency.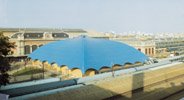 Structural Analysis and Design is performed in-house using state-of-the-art large deflection, non-linear finite element analysis, with computer-aided form-finding and patterning of the fabric surfaces.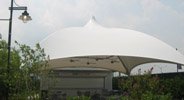 In addition to unique Fabric Structures of virtually any variation, Span Systems, Inc. also offers SPANDOME® Roofs and Buildings. Span Systems offers the proprietary SPANDOME system of pre-engineered fabric structures with a difference!!

Most other modular fabric structure systems use their arch supports in parallel rows; therefore, they are expandable in one direction only, which means narrow "tunnel" shapes. Spandomes, on the other hand, having arches placed diagonally, are expandable on all sides by the addition of similar Spandome modules.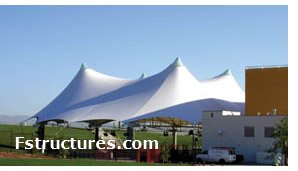 Spandome roofs can cover ground plans of any shape and size, have uniform eave height all around, and transmit no loads to their vertical walls (which can be made of any construction or even left out altogether). By utilizing the strength of all materials fully and only in pure tension or compression, Spandomes are approaching the very limits of material efficiency. This makes Spandomes the most economical long-span buildings and roofs available today.



Find more details at www.spansystemsinc.com

Viewed: 6096 Comments (4) Share this article »
Forgot password?
JOIN US
or login with your existing account