Reflecting last questionnaire results, our service is now mainly focused on the potential consumers of our products.
Which service is most important to you?


Being up to date with the latest
news of the textile industry. - (25%)

Attracting new customers. - (45%)

Finding partners, suppliers,
contractors. - (20%)

Online communication
with community members. - (9%)

After being 6 months online we have some statistics:
• More than 7000 unique visitors and 35 000 page hits;
• More than 20% visitors increase every month;
• Over 200 registered users;
• Over a hundred requests from potential customers. (
total 497 000 sq. m of area to be covered
).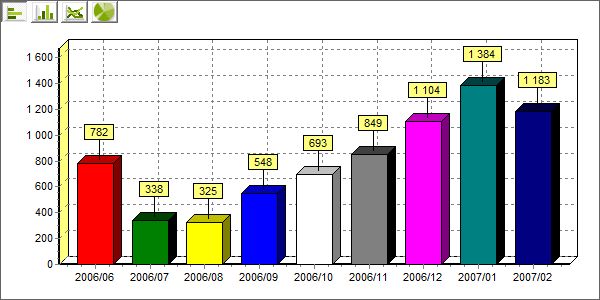 Not so much yet, but anyway…
Recent improvements:
• Access to Member-list granted for every visitor;
•
Request-for-quotation
forms created for each product;
• Product categories were made more consumer friendly (uninformative information consumer wise was removed);
• First rules for
members
directory implemented. From now on, to be listed there you have to belong to our industry having a website (all registrations are pre-moderated);
• Quotation requests are moved to
marketplace
now and will not be listed on the main page anymore. Contact information of published requests is now available only for members of our community.
• A category where we will inform you about recent changes and improvements of our service is created. Now you have an opportunity to subscribe to the topic you are interested in and get notifications about new articles published.
If you have requests which you cannot handle due to geographical or any other reasons - please contribute them to our community - perhaps some other companies will meet the needs of those clients.
Many thanks to
Mechanical Engineering Department
for placing the link to our community! We greatly appreciate it and we will be thankful for mentioning us at our websites.
We would appreciate if you will find an opportunity to inform us about news or other information which could be interesting or useful to our community members.
We undoubtedly welcome any suggestions, critics, comments, etc. and kindly will answer any questions you may have.