Permanent, or Seasonal Clear Span Air Supported Structures
With over 25 years experience in the Air-Supported Structure Industry Yeadon® has earned the reputation as the industry leader in quality and technology. Our structures are ideal for sports and recreation, warehousing, bulk storage, construction site covers, industrial and military uses. Our state of the art, energy efficient structures incorporate the latest innovations in design, anchoring, mechanical and electrical systems.
Yeadon® structures meet and exceed industry standards including Air Structures Design and Standards Manual ASI, ASCE, CSA CAN-S109, NFPA 701, UBC, BOCA and are accepted by most building codes for permanent and temporary uses.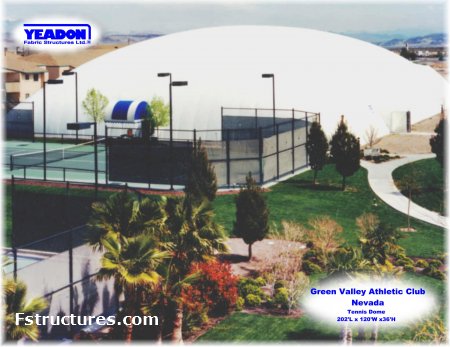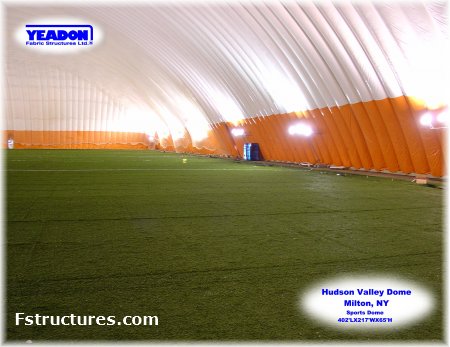 Yeadon® Air-Supported Structure Features:
* Structures are custom designed to address a customer's specific needs
* R-Plus Insulated Structures are available to reduce energy costs
* Yeadon® uses only the highest quality fabrics for maximum lifespan
* Dielectric welded construction gives maximum strength
* Wide span structures are designed with a cable reinforcement system for added strength and stability
* The anchoring system is airtight, low-cost and easy to install
* All structures have both primary and standby mechanical systems
* Revolving doors are strong, attractive, easy to use
* Emergency exits meet all building codes
* Airlock passageways allow for easy access for vehicles and pedestrians
* Structures can be easily attached to permanent buildings
* Tilt type or suspended lighting fixtures are the ultimate in sports lighting
* Yeadon® Structures are easy to operate and maintain
* We provide technical support throughout the life of the structure
* The Yeadon® warranty guarantees customer satisfaction
Yeadon® Warranty Guarantees Satisfaction:
Materials and workmanship employed in Yeadon® fabric structures have a warranty period of three (3) years against defects in workmanship and materials. Fabric warranties are ten (10) year, pro-rated for maximum protection. Fifteen (15) year pro-rated warranties are available on the premium fabrics. Mechanical heating and electrical equipment warranties are one (1) year for parts.
Yeadon®'s heating equipment is supplied with Yeadon® start-up and commissioning included and is covered for the first ninety (90) days for all parts and labour.
CHECK OUT OUR WEBSITE @ www.yeadondomes.com