Hello to everyone!
We've just finished one project and decided to show it to the community members. It would be very interesting to receive some feedback of any nature. Well, as to the project…


The structure is not a unique one or outstanding, it's just an example of temporary structure - hangar type aluminum framed and PVC covered shelter for tennis court. We started this project in July 2006 when the client came and expressed his intensions to cover tennis court of his own at his private territory. We've accomplished this project in the end of August: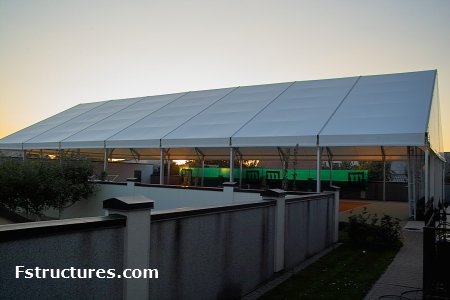 Technical characteristics


Width – 18.5 m
Length – 34 m
Side height – 4 m
Top height – 9.2 m
Aluminum kederprofile - 230x100.
PVC cover - 650 g/m2, DIN #53352, VERSEIDAG Technologies.


Below you may find some photos of preparation process:







Later we will expose video presentation of erection process.

Once again, we would greatly appreciate comments of any nature expressing your opinions or asking questions.